Home » Campsites, Top Post
Camp Stupice Premantura (Medulin)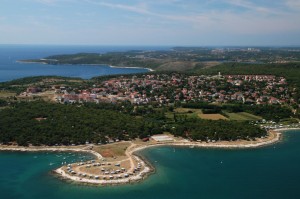 Camping Stupice is situated on a peninsula, on the southernmost point of Istria close to the city Premantura, the large camp is completely covered with Pine trees, only exception is the "ear" a mini peninsula with pitches places in a circle, the nearby Cape Kamenjak is a protected landscape excellent spot for walking trips and bike rides along the trails.
Beaches is a mixture of rocky and pebble beaches.
Camp offer Mobile homes for rent.
Facilities:
Among the camp facilities, there is a restaurant, a seafront bar, a supermarket, an exchange office, a souvenir shop, a newspaper-stand and a public telephone.
The Camp offers a number of sport activities, like tennis, Badminton, football and mini Golf. I addition there is several bike trails in the area. If you want to explore the Medulin laguna you can rent a boat at the campsite.
The extensive animation program ensures plenty of entertainment for both adults and kids.
Mobile Homes
Camping Stupice offers possibility of renting air-conditioned mobile homes. They are 24 m2, with capacity up to 5 persons. Mobile homes have living room with sofa, kitchen, double room , double room with extra bed. bathroom with shower, covered terrace with a panoramic view of the sea or woods and parking space for car.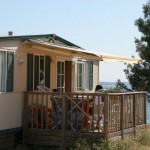 Lots:
Camping Stupice has around 1000 lost, situated in the deep shade of centuries-old pine trees, the lot sizes vary from 60 to a 120 m2, main part with electricity. On the camp there are central sanitary facilities, the camp has a maximum capacity of app 3000 people.
Lot A: 90-120 m2, max. 8 persons, electricity supply
Lot B: 70-90 m2, max. 6 persons, electricity supply
Lot C: 60-70 m2, max. 4 persons, without electricity supply.
Distance to larger cities in the Area
Distance Premantura centre – 0.6 Km
Distance Medulin 12.1 km app 15 minutes drive
Distance Pula 11.9 km app 20 minutes drive
Other camps in the Area: – Click the map to see all camps in Istria
Pictures from Camp Stupice: