Home » Apartments
Villa Velike Stine Medulin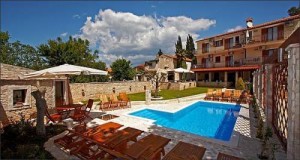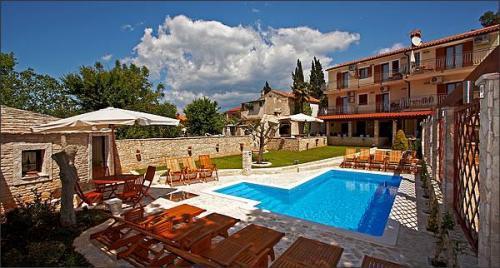 Villa Velike Stine is a family run establishment found in the Istrian town of Medulin. The location is landlocked, but ideal in a way: the villa is some 400 metres away from the beach, but 50 metres from the downtown area and some 100 metres or so from the shop and the town market. As Croatia and Istria in particular, are sometimes advertised as a haven for genuine food, this well might be your chance to explore natural produce. On the other hand, if you have real vacation in mind, you will not miss a thing: the guest's only restaurant provides just the thing and offers unique, and healthy, dishes. Even the bread is home-made, and guests are even encouraged to pick some figs from own garden.
Rooms and suites at Villa Velike Stine:
There are only five studio apartments in the villa, guaranteeing peace, quiet and rest. These are fully equipped with SAT TV, air conditioning and internet, while you can gaze at the sea and the pool immediately in front of you. If coming by car, you get a parking space together with your studio apartment.
Facilities at Villa Velike Stine:
Though one cannot expect a variety of features such as in mega-hotels, the offer of this jewel villa among villas in Istria is astounding. Along with the customary massage, featuring aroma and bio-therapy and other beauty treatments, the villa personnel, or should we say the family, will gladly assist you in chartering a boat for instance. This may prove to be an exhilarating experience. Skipper included, there are numerous opportunities for planning your route along northern Adriatic. You may, then again, opt for golf. Istria boasts weather suitable for golf during the better part of the year, even in winter, and there are many courses, even on the renowned Brijuni.
Hotel contact information:Address: Regi 44, 52203 Medulin
Tel: + 385 52 543 677
Fax: + 385 98 1892436