Home » Campsites
Camp Medulin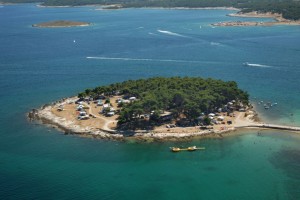 Camping Medulin stretches over two successive peninsulas covered with luxuriant Mediterranean vegetation, the peninsulas are connected with a narrow passage.
This beautiful area, in the very south of the Istrian peninsula, is an open invitation for a relaxing holiday in peaceful surroundings. The gentle green scenery encompasses the picturesque cove with pebbly and sandy beaches that slope down to the sea. (The unique Sand beach Bijeca is nearby).
From the peninsulas' there is a stunning view on the Medulin bay, your task is to decided if you want to spend you holiday on the larger peninsula or the miniature peninsula of Camp Medulin.
Camp Medulin is equipped with special toilet facilities for the disabled, area for washing dishes, showers with hot and cold water as well as beach showers. If you are arriving by boat or have a small pleasure boat there is a tourist port for small vessels.
Thanks to its facilities Camping Medulin has the reputation as a family friendly campsite, therefore it can strongly be recommended for families with children.
The camp offers mobile homes for rent.

Facilities:
Guests can enjoy a ride by electric train, which passes along the entire bay and is a great attraction, especially for children. Camp Medulin also has a large Family Park offering fun and entertainment for the whole family.
Sport facilities: basketball, volleyball, mini-golf, table tennis, children's games, diving and of course a playground for the kids.
The Camp Medulin offers several restaurants and bars, a snack bar and a pizzeria. On the camp premises you can also find a supermarket, an exchange office, a souvenir shop, newspaper-stand and public payphones.
Last but not least the Arenaturist's animation club – Artur club, if also available on this camp.
Lots:
The Camp Medulin has around 1100 lots, situated in shady Mediterranean vegetation, the lot sizes vary from 60 to a 120 m2, main part with electricity. On the camp there are several sanitary buildings, the camp has a maximum capacity of app 3300 people.
Lot A: 90-120 m2, max. 8 persons, electricity supply
Lot B: 70-90 m2, max. 6 persons, electricity supply
Lot C: 60-70 m2, max. 4 persons, without electricity supply
Distance to larger cities in the Area
Distance Medulin 1.9 km app 3 minutes drive
Other camps in the Area: – Click the map to see all camps in Istria
Pictures from Camp Medulin: